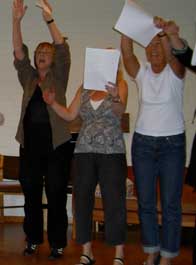 Develop your choir!
Voice technique training for choir singers is the same as for soloists, but it is even more important to know that a vibrant sound comes from the work done by the text and the formants of the vowels and not by focusing on sound production. The bigger the difference, of the vocal skills of the choristers, the more challenging it is to create a homogenous choral tone.
In interpretation, the choir conductor needs to understand voice technique to avoid musical ideas to strain the voice. Technique and interpretation should be seamless and the conductor should use sensible body language to help the singer reach the musical goals.
When working with choirs, I start with basic voice technique to strengthen each individual singer. Further I train the choir how to work the text and how to combine words and phonemes with technique and expression to enhance the choral tone.
Training will be adjusted after the experience and previous knowledge of the choir.